TL;DR: Due to the frustrating and disappointing nature of Frye Company Customer Service:
I will not seek out Frye shoes or boots again.
If I ever purchase Frye again (unlikely), it will be only from Nordstrom, where the customer service is excellent and reliable.
These Boots
I had been on the hunt for Frye boots for years but hadn't found the right pair. So naturally, I was very excited when I bought my first pair of Frye boots from Sole Food in University Village in spring of 2017. It was one of those two-birds-one-stone situations, as I was able to satisfy my inner shoe enthusiast while supporting a locally owned small business – something y'all know I am very passionate about. (See Women-Owned Businesses in Seattle, by Neighborhood and Shopping Small.)
Here are my first Frye boots, in all their glory, shortly after I purchased them.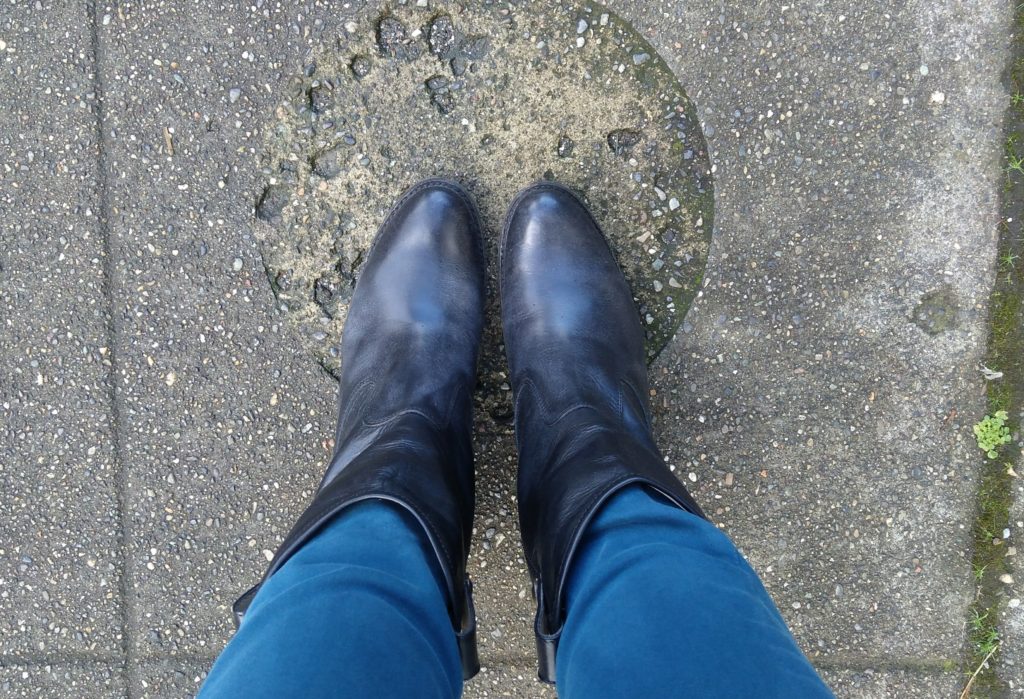 Aren't they lovely? I love that they are a unique height and that they have a bit of a western flair.
Weren't Made for Walkin'
Full confession. I was a little lazy when I first bought these boots and I did not waterproof the leather. This means I was only able to wear these boots when it was blissfully dry out – a rarity last spring. I'd estimate I wore them about 6 or 7 times before I retired my boots for the summer. When fall rolled around and the boots resurfaced, I treated leather right away so that I could wear the boots more frequently.
My grand plans to take to the streets of Seattle with my Frye boots were dashed the first time I wore them in the fall…
The heel fell off…
…both boots.
Check out this horrible sight:
I know what you're thinking: "How did the heel fall off of both boots at the same time???"  What a great question! (Spoiler…we'll never know the answer.)
Naturally, I was disappointed the boots fell apart after fewer than 10 wears, but I was confident between Frye and Sole Food, I'd be well taken care of…after all, Frye Company customer service is known for it's excellence….
Frye Company Customer Service Circus
I headed to Sole Food, the place of purchase, with my dilapidated footwear.
The young women at the store recognized the boots as coming from their shop, but explained that since the Frye store moved into the shopping center, Sole Food was no longer an official retailer of Frye. I should go talk to them.
This seemed like a super weird way to retain a customer, but I figured I'd roll with it since they are a small operation and might not be able to afford the loss.
So I trudged across University Village to the Frye store where I was soon to become deeply frustrated.
Check out the conversation below, where I have done my best to recapture the spirit of the exchange. (To be clear, I am not criticizing the woman who was trying to "help" me at the Frye store. I think she was simply doing her best to represent Frye Company customer service policies – which are exceedingly shitty.)
Me: Hi, I'm hoping you can help me with a product quality issue. I haven't worn these boots very much and the heels fell off.

Her: Oh, I'd love to help with that. We can return or repair them if you purchased them within a year. Do you have a proof of purchase?

Me: Unfortunately not. I don't really keep receipts for shoes I decide to keep, however, I did purchase them less than a year ago from Sole Food.

Her: I can't do anything without a proof of purchase. But I can recommend a cobbler. Fixing the heels won't be very expensive.
This is where I started to feel a little insulted. Can't she tell I'm the kind of person who already has an awesome cobbler?
Me: I actually have a great cobbler. I'm not concerned about that. I'm concerned that I've barely worn these boots and they are falling apart. Why would I pay more to repair boots whose quality is already suspect?

Her: I'm sorry, I can't do anything about it without proof of purchase.

Me: Well, I'm standing here with Frye boots in my size that are clearly barely worn, yet falling apart. How is that not proof?

Her: Sole Food isn't one of our official retailers, which means they may not be following the care instructions for our shoes. We don't know how they treated those boots before you bought them. But I can recommend a great cobbler.
I purposely had to ignore the bit about the cobbler. Seriously…mine is awesome.
Me: That might make sense to me if we were talking about the leather, but I'm having a hard time imagining what they could have done to cause the heels to fall off.

Her: I'm sorry, we require a proof of purchase to make any exchanges or repairs.

Me: So if Sole Food has record of my transaction, you can do something?

Her: Yes.
I didn't have high hopes, but I marched back across the shopping center to Sole Food.
Nope, no record of purchase.
Back to the Frye store…
Me: Sole Food doesn't have a record of my purchase.

Her: I'm sorry. I can recommend a great cobbler who can fix these quickly.
Again with the cobbler???
Me: Look, there was an opportunity here to create a loyal customer. I am a shoe enthusiast. If Frye was willing to fix or replace these boots, I'd be a happy repeat customer telling everyone I know about my great experience. Instead, I'm walking out of here knowing that Frye does not stand behind their products or take care of their customers when their products fail. Now I'll tell everyone I know that Frye Company customer service is just as shitty as the shoes.
A Change of Tune
I am not a badass and I am not tough – and while everything I said was true, it was difficult to stand up for myself.
But I'm glad I did because she knew I meant it.
Her: Let me see what I can do. Let me contact corporate customer service and see if they'll fix the boots.
Long story just a bit longer, 3 emails and 2 full months later, my re-heeled boots finally came back to me, courtesy of Frye.
The Results
When I was finally able to retrieve my boots from the store, the presentation was good.
And the heels were definitely repaired!
Bonus! The leather was clearly treated and shined. They are now much nicer and more polished than the day I bought them.
(Roxie is also impressed.)
The Good News:
Frye fixed my boots and they are in better condition than when I sent them away.
The Bad News:
I had to really fight to get the correct results. If I hadn't been upset enough to stand up for myself, I would have been turned away with broken shoes. How many customers had similar experiences and never spoke up?
As it is, I am still deeply unimpressed and dissatisfied with Frye Company customer service policies.
I would like to see Frye really re-examine their policies and the way they treat their customers. Due to this experience, I am unlikely to ever walk into a Frye store again. I am also unlikely to purchase Fryes unless it's from a retailer like Nordstrom (impeccable customer service) or a small, local shop with whom I already have a great relationship.
Dearest Reader, I am very interested in hearing about your experience with Frye. Was my encounter a one-off? Or is this the way they consistently treat their customers?