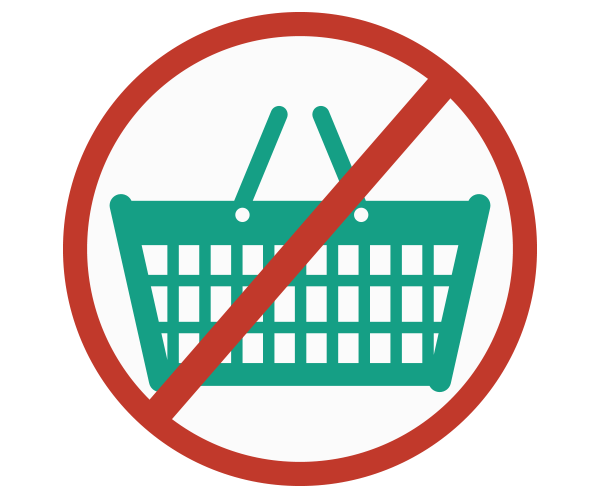 Whew…experiment over!
Guess what? It didn't actually kill me.  (If you need a refresher on the details and goals of this endeavor, please check out Shopping Abstinence.)
So here's how it went down.
Easier Than I Thought
My hypothesis was that this experiment would be a lot like torture. After all, how could I possibly avoid the charming little boutiques I enjoy so much with all those carefully curated pieces?  HOW?! (I was actually really concerned about this.)
As someone who is always on the go and likes to do things, I often forget how easy it can be to just do…nothing. But that's exactly what I did…erm…didn't do.
When I felt the urge to go search for inspiration in a clothing store, I'd stay in and read a book instead. Or I'd do something productive like clean part of the condo or mend a shirt. I chose not to put forth the effort into getting bundled up against winter temperatures just so I could shop. I chose not to put myself in a situation where I would have to choose between some item I did not actually need and sticking to my resolution.
Doing nothing is surprisingly easy!
More Difficult Than I Thought
I chose the holiday season for this challenge, which certainly made it more challenging!  In order to stay consistent with the conscientious habits I tried to develop last year (see Shopping Small), I did most of my holiday shopping at small businesses around town.  And, as we've established, I love my boutiques! So naturally I found something to covet almost everywhere I shopped. But in spite of the temptation, I stayed strong through holiday shopping and did not give in to the typical "one for them, one for me" mentality.
My downfall came immediately after the holidays. I spent a couple days bopping around Seattle and Bainbridge with my mom and mother-in-law, having a great time sampling various happy hour offerings and checking out post-holiday sales.
Before we go any further, let's talk about how COLD it was right after Christmas. I realize it was "only" in the 30s, but for me there's little difference between that and subzero arctic temperatures. Basically, I was freezing to death. So when I came across some really warm, cozy pajamas at a screamin' discount, I completely caved.
Now if you want to get really technical about it, pajamas are not fashion and I could make reasonable excuses about I didn't break my shopping fast. But I chose to hold myself accountable. I did not need the pajamas.  I could have just as easily bundled up in my warm bathrobe or wrapped up in a blanket. I  really wanted the pajamas – so I bought them, and  then extended the length of my challenge for another week to make up for my "transgression".
The best part about my "failure" is that I don't regret it.  I use the pajamas all the time and they do keep me cozy in the winter months. I also feel like extending the length of my challenge to compensate was a reasonable price to pay.
Did I Accomplish My Goals?
Save Money
This part of the experiment was definitely telling! I always had a hunch that clothing purchases were my weakness (snark), but the numbers prove it beyond doubt.  November through January I spent 60% less on my own entertainment. Damn.
So do I call this part of my experiment a success? Y…yes? In the sense that I am now fully aware of how I spend, I should be able to control it better…right? RIGHT?!
Have Less Stuff
The amount of over all "stuff" I have in my closet didn't really change. I'm pretty good about getting rid of the old to make way for the new – and since there was no new, the old stayed, and my closet was no more or less cluttered. The old stuff did end up getting a lot more use, which brings me to my next goal…
Use What I Have
I think this was the most satisfying for me because it allowed me to be creative.  When I'd get bored with my go-to's and have the urge to go shopping, I forced myself to find other ways to mix and match my wardrobe. In these last three months, I learned that my closet is a lot more versatile than I thought! I even tried mixing patterns, which has always been way outside my comfort zone.
On the flip side, I also found some of the ways in which my closet is really limiting. For example, I have a lot of fit-and-flare and a-line dresses for the winter, but many of them are sleeveless so they need a sweater. Most of my cardigans are longer and unflattering with the fuller skirts, so many of my winter dresses go unworn. Bummer.
During this experiment, I also found myself mending rips or re-sewing buttons instead of replacing the whole item.  That behavior felt really, really satisfying.
Find Some Self Control
Time will tell whether I've achieved more control over my desire to consume, but I do have hope!
Admittedly, the second my challenge was over, I went to Endless Knot in search of a versatile shirt I can wear under certain dresses, with skirts, and with jeans.  So while I did shop, it was with something very specific in mind. That single purchase created 12 additional outfits in my wardrobe and allows several of my dresses to span three seasons.  I'm also happy to report there were no additional impulse purchases.
The next thing I'm considering is a piece that will solve my "long cardigans suck with fit-and-flare" issue.  Maybe something like this cropped denim jacket from Anthropologie.
Or maybe not. I'm in no hurry and will happily turn this down if it does not suit my needs.
Is there even a conclusion here?
I'm going to keep it up.
What's not to love about all the positive lessons I learned from this experiment? I saved money, I forced myself to be creative with what I already had, and I was far less wasteful.
Going forward I probably won't inflict penance upon myself if I do buy something, but I do know whatever I buy will be based on need and usefulness rather than desire and impulse.
This feels…freeing.