Alright, so the January Cure is over! I did it! Sort of. I did a lot of the things. But I also skipped some of the things in order to focus on other parts…like sexifying the closet under the stairs! Earlier in the challenge, if you recall, I did a bit of clean up. Gutted it, got rid of some stuff, cleaned out the inside, then put the stuff back in. Throughout the rest of the month, I have been ordering and assembling the shelving, as well as ordering storage containers and REORGANIZING everything.
Let's take a trip down memory lane.
Phase 1: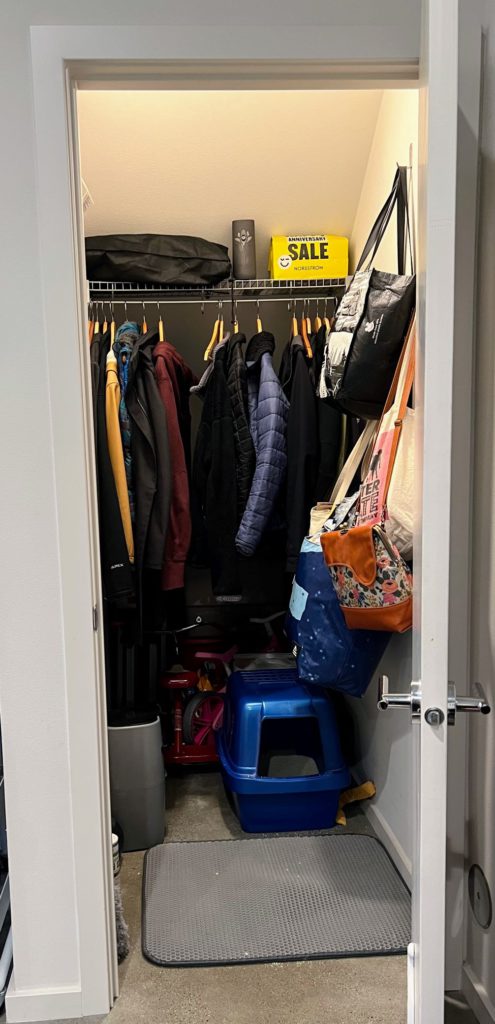 Phase 2: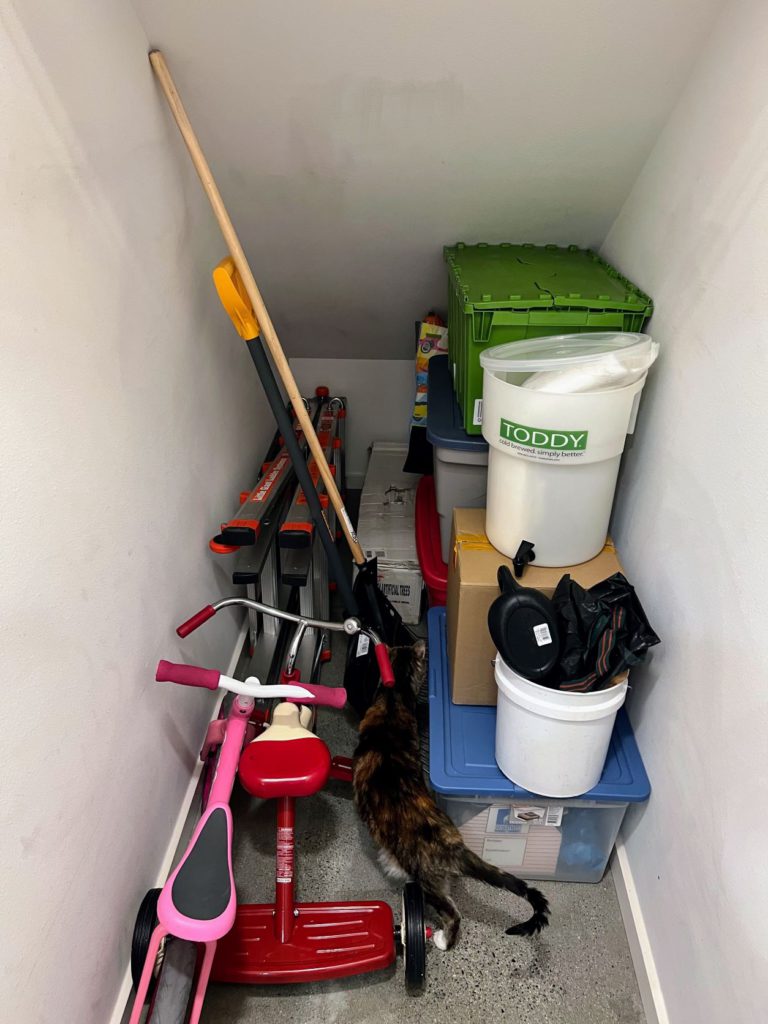 And finally, my new closet under the stairs!!!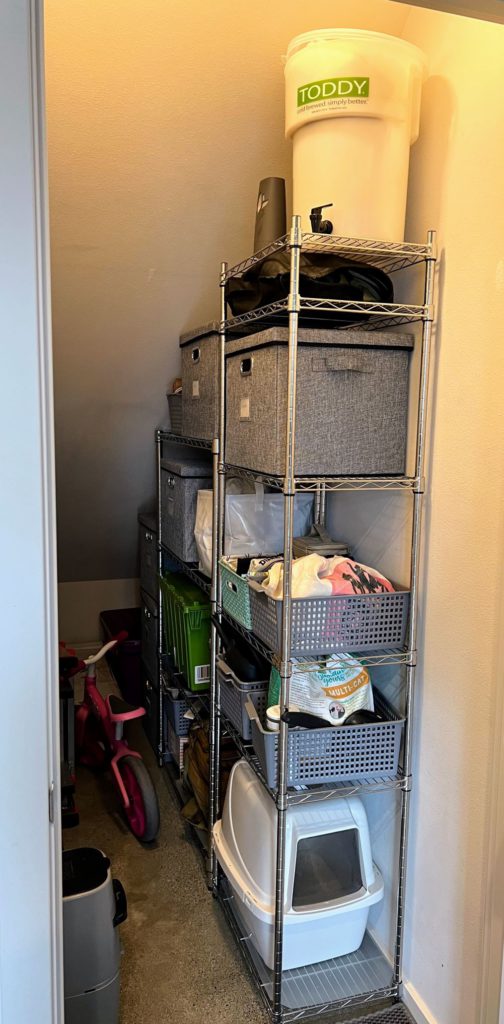 This is SO MUCH MORE accessible. So much more USEFUL.
The shelving style we selected is similar to what can be found in restaurants inspired by some of the commercial shelving we used in the custard shop. Initially, I planned to mount shelves to the wall, but ultimately that seemed like a lot of work…and operating power tools at the end of a day of work and toddler seemed like a poor choice. The shelves are two different brands due to desired sizing (a 72″ tall unit and a 54″ tall unit), but they are similar enough. They were also very easy assemble.
These large grey bins were amazing! I ordered 8 of them and they were perfect for holiday storage – which crossed off a major item on my Home Project List from early in the Cure. Also, Evelyn had a blast assembling them with me!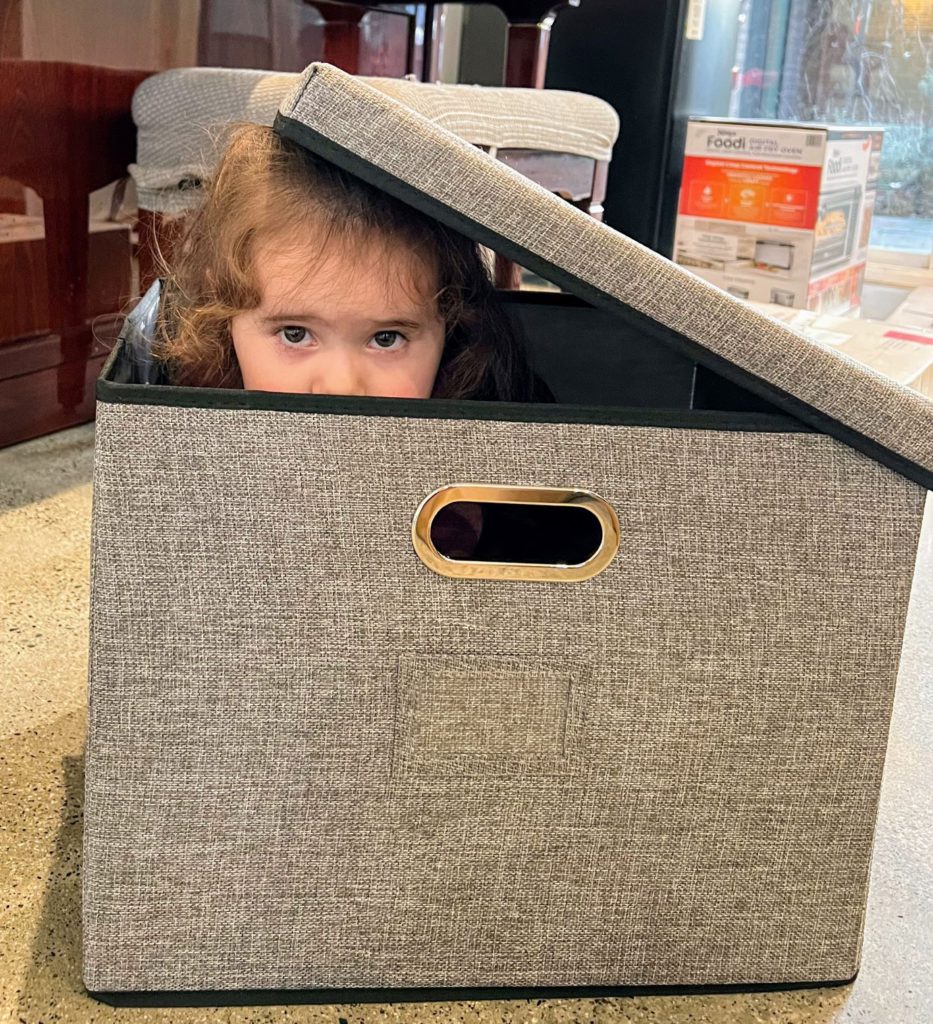 We also picked up some plastic storage baskets without lids. These have been great for storing our random gardening goods, all things related to cat poop, and reusable bags. Roxie even got a brand new litter box out of the deal! One that fits nicely on the 14″ shelves.
Fridge Before & After
Day 10 was a kitchen declutter/clean out. I had already done a large part of the interior in the very first project of decluttering a drawer when I went a little overboard. And honestly, the before and after photos of the clean cabinet were not that impressive. But here's the before and after of the fridge. I'm super glad I did it the night before we went grocery shopping, otherwise it would have been a bigger project.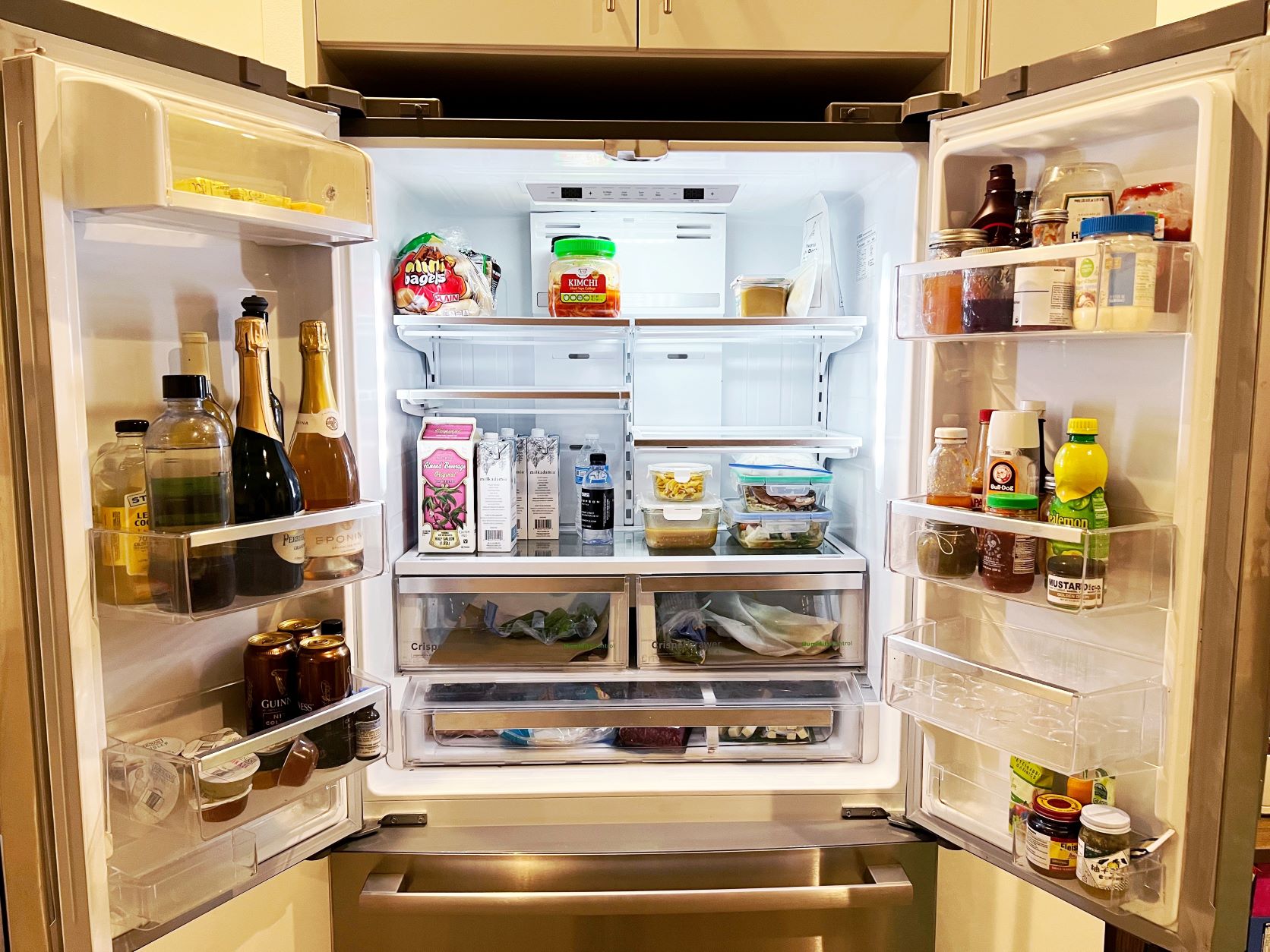 Definitely cleaner. Definitely a bit more organized. There's nothing like a sanitized refrigerator.
Decluttered Another Drawer!
This is the before and after of the bottom drawer in the master bath.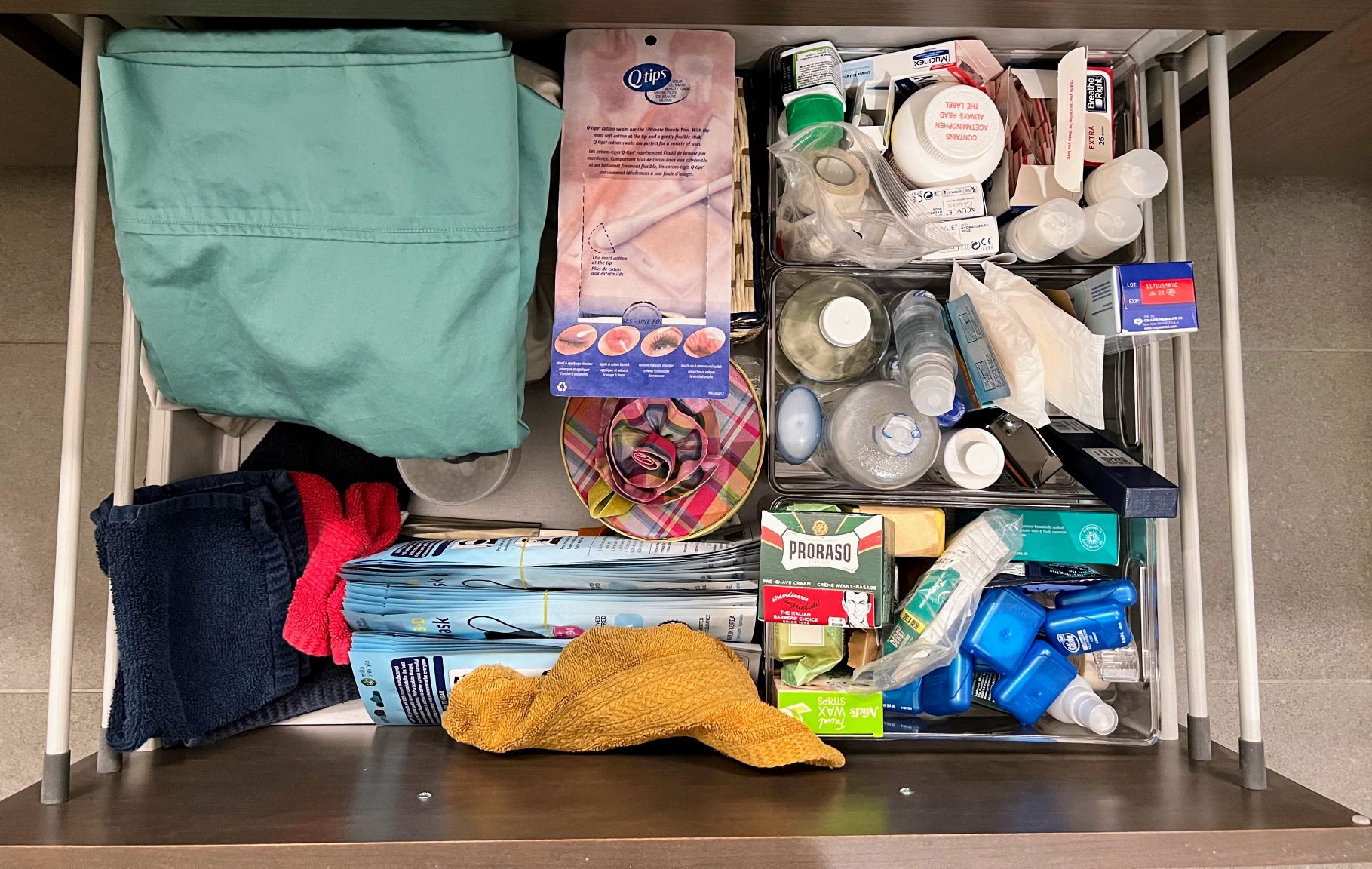 Why did I think the drawer also needed to be the linen closet? Oh! That's because our modern townhome has NO LINEN CLOSET. (Pardon me while I rage a little.) Actually, I am now about 2/3 done with making the bathroom vanity really nice – I just forgot to photograph some of it – which means I'll be able to cross this off my master project list, too!
Summary: Closet Under the Stairs Was My Favorite
Obviously. It needed the most help. And it had a lot of positive downstream effects. Redoing that closet ultimately improved our closet in the office, our project space, and even the bathroom storage. I have about 5 more drawers I need to declutter and space under two more bathroom sinks – then things will start to feel pretty good.
Also, let's take another look at my list of projects from the beginning and see how many I actually accomplished in January.
Find a better winter shoe situation. (Boot tray? Shoe bench with storage?)
Find a winter accessory solution
Shop for soap dispensers and tray (we have a leaky dispenser)
Organize holiday décor. Will need a bin for both Christmas and Halloween.
PURGE. Go through all the random bins in the back and determine what stays and what goes.
Organize the closet so that we can easily access all the stuff in this awkward, awkward closet under the stairs.
Shop for a better litter box that better contains the smell and tracking
PURGE the office closet. And then reorganize what we keep.
Do something to make the office aesthetically fun. (Not sure what this is yet)
Create a plan for graduating to a big girl bed
Purge and organize the Evelyn's bath vanity.
Shop for a statement wall clock
Hang some family photos
Find a new home for the glassybabies on the dresser.
Purge jewelry
Purge clothes and shoes. List or donate the rejects
Purge hand bags
Better organization for tights and similar.
Purge and organize the HUGE bath vanity
Reseal the shower grout
Freshen up the wall art
Clear out the third floor hall.
Not bad, considering the challenge only asked me to do one of them. And since Omnicron is still kind of bullshit in King County, it looks like I might be able to knock out the rest in February.