I give my shoes a lot of attention. They're in a good number of my Good Morning, Seattle photos and they have their own galleries on my blog.  But I never photograph my dance shoes! Partially because I don't wear them on my morning walks, and also because they are often…well worn.
In the seven years since I started my lindy hop journey, I've tried dancing in so many different shoes…always looking for the perfect pair. Of the dozens I've tried, these are the dance shoes I've found worth writing about.
I've danced in these for about three years now and I've re-soled each pair twice. You can see these are well loved.  I will dance in these until they fall to pieces.
Pros:
Flats!
The leather forms around my feet like a custom-made glove.
Oxfords go with almost everything.
Cons:
These shoes have zero support or cushion so it feels like I'm dancing directly on the floor.
These are awesome for social dancing, but for workshops or all-weekend events, I can only use these for about 4 or 5 hours before my joints start to complain.
The magic of TOMS is that they can double as street shoes and dance shoes on some floors.
My two patterned pairs are street shoes that make an appearance at Dance 'Til Dusk in the summer. Also, if I happen to find myself at work or in a bar and I feel the sudden overwhelming urge to Charleston, these TOMS are my best friends.
My black pair is dance-only and is perfect for the Century Ballroom West Hall (among others).
Pros:
Easy to find in any color or pattern you can imagine.
Affordable!
Danceable all day.
Cons:
Ugly. Lets be real…they're essentially street slippers.
They only work well on some floors.
These are my go-to shoes when I know the floor is right and I don't have time or energy to put into being fabulous – those days when I must dance or die.
Every year at Camp Hollywood I purchase a new pair of Re-Mix shoes…it's one of my favorite traditions. Re-Mix makes leather-soled shoes that happen to be perfect dance shoes.  At any event, they can be spotted en mass among the ladies.
From right to left:
Balboa These were my most danceable heels until I bought Gabriele. I love the two-tone colors and they are divinely comfortable.
Gramercy My first Re-Mix purchase! I bought them just a bit too small and I tried dancing for hours in them after I bought them without breaking them in… That was a mistake. I don't really dance in these often, I just wear them when I want to look fabulous and there's a chance of dancing.
Gabriele My most recent addition! And the fastest to break in.
My absolute favorite…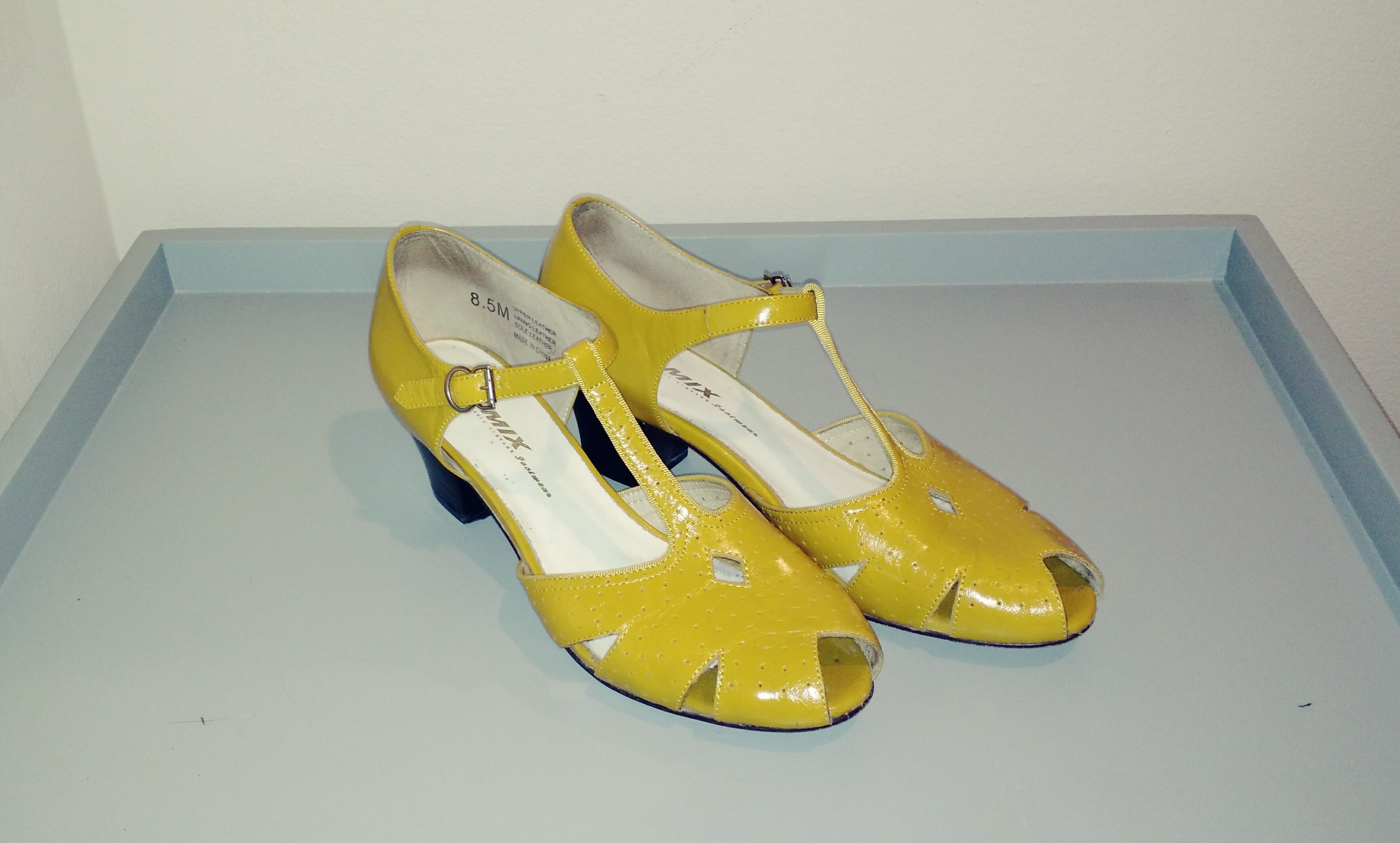 These shoes are heaven. They are by far my most versatile lindy shoes.
Pros:
Heels are chunkier which I need since I'm not the most graceful…
Ridiculously cute.
YELLOW
Easy to break in!
Cons:
No, I did not forget to fill out the "Cons" section. There is actually nothing negative about these shoes. They are perfect and I look forward to a long relationship with these shoes and subsequent pairs of Gabriele.